How to Ruin Romantic Relationships



I know lots of ways to damage a relationship because I've been a couples therapist for many years and I've been married twice myself.  Affairs, violence, criticism, blame and refusing to engage will all do the job quite well.   I recently read the most comprehensive and humbling list that I have seen, of the things couples do that ruin romantic relationships.
One of the most damaging things we can do is fail to "differentiate", or fail to stay in our own center, speak our own truth and soothe our own distress even when our partner is angry, disapproving or disengaged.
Check out the list below of Behaviors that Can Postpone or Inhibit Differentiation.  I invite you to see how many of these behaviors you are doing.  Read on to discover how many I was doing and how I am learning to do better.
Behaviors That Can Postpone or Inhibit Differentiation
Adapted with permission from work by Ellyn Bader, PhD and Peter Pearson, PhD 
I blame my partner for the problems in our relationship.

I bring up past issues/resentments rather than staying on topic.
I get very triggered or flooded.
I don't share with my partner, I confide in others instead.
I distract myself with work or with parenting, I am just so busy.
I calm myself with drugs and/or alcohol.
I go numb or "let it go", convince myself it doesn't bother me.  Anything to avoid a conflict.
I pick a fight.
I keep quiet and "stuff it" in order to avoid a conflict.
I pretend nothing is wrong, put a smile on my face.
I plot revenge, figure out how to hurt my partner the way that I am hurting.
I compromise my own values, "sell myself out",  to avoid a conflict.
I protect my partner from my true feelings, tell myself that he/she couldn't handle them.
I try once or twice but then I get discouraged and give up, thinking I've tried everything.
I convince myself that my partner isn't going to change, so why bother trying any longer.
I focus on other things, try not to let it bother me.
I affirm and soothe myself with flirtations or affairs outside of my marriage.
I avoid taking responsibility for my own bad behavior, get defensive, refuse to see the ways that I need to change or grow.
I avoid topics, change the subject, walk away during a discussion or shut down and say nothing at all.
I deflect my anger toward someone else.
I tell myself that I am a "saint" to stay with my partner.
I drop hints, verbally or non-verbally, but avoid addressing topics directly.
I threaten to leave, make plans to leave, and/or fantasize about leaving.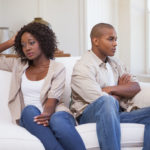 I applied this list to my marriage, and "Yikes!  I do 15 of these!"  
Humbling!  Also empowering because when I locate a problem in myself I know that I can solve it.
Would you like to improve your marriage? 
If so, consider using any/all of these strategies:
1)  Rate 0-10 how much each one applies to you.
2)  Resist the urge to focus on what your partner does.  Focus on who you have the power to change, you.
3)  Pick one to work on first.
4)  Write down the belief or behavior that you would like to have instead.  Write it in positive language, as if it is already true.
5)  Use visualization, EFT, meditation or other skills to heal and change this tendency.  I find EFT to be the most effective method for me.
When we try to change our partners we give up our power because we don't have the power to change another person.  If we could change our partners we would have by now, right?  We can only change ourselves, and the sooner we get busy the sooner our relationships improve!