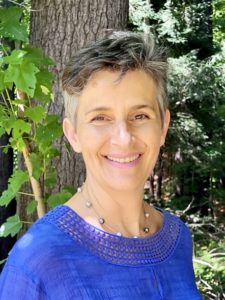 Sarah became a psychotherapist and parenting consultant for the same reason that she became a gardener; she is inspired by every living beings' inherent desire to grow.  Her 25+ years of experience enable her to create an ideal environment for that growth to occur in her clients.  By offering non-judgmental listening, deep questioning, genuine caring and cutting edge EFT tapping techniques, Sarah helps each client to uncover their own wisdom and clarity.
Sarah's approach to treating her clients varies, depending on their unique needs. Rather than imposing one particular model on clients, Sarah listens well to the needs of each client and uses the approach that will be most helpful at that time. Sarah is trained in a range of techniques and specializes in Emotional Freedom Technique (EFT tapping), parenting issues, and relationships.
Sarah holds a master's degree in Counseling Psychology from Springfield College and a bachelor's degree in Women's Studies at the University of Massachusetts at Amherst.  Her career spans over 25 years in the fields of psychology, consulting, and education. In her private practice in Northampton, MA she counsels individual adults, parents and couples by phone, video chat and in person.  She also offers ongoing support groups for parents and for individuals who wish to get unstuck and move more quickly toward their personal and professional goals.
Prior to her career as a psychotherapist, Sarah served as director and teacher at Capacidad, an anti-bias after-school program in Amherst, MA. She has worked as an Educator/Advocate at the University of Massachusetts' Everywoman's Center in a program to end violence against women. As part of the Alternatives to Violence Program (AVP), Sarah has facilitated workshops with and for inmates of maximum security prisons.
To learn more about some of Sarah's work, check out the press she has received.